Verbier Festive Ski Offer - 20% Discount
Click/tap the image below to automaticaly save 20% on equipment hire in Verbier or alternatively, go to www.skiservice.com and enter the code FESTIVE20 - This offer is now longer valid but if you head to our homepage at www.skiservice.com for our latest offer.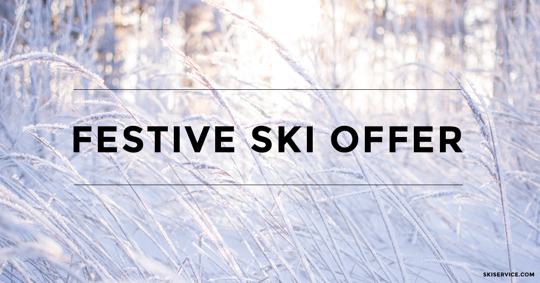 FOLLOW THIS LINK TO SAVE 20% on all equipment hire for your winter trip to Verbier.
Valid on all gear booked by the 3rd of January 2015.
We are a locally owned shop with the best value ski hire in town. By booking direct with us you benefit in more ways than one.
Firstly, we guarantee this is the best rate available on gear rental in Verbier. By booking direct with Ski Service Verbier and cutting out the 3rd party websites the process is streamlined and this allows us to keep our prices extra competitive. If, however, you do find a cheaper offer elsewhere, let us know and we will match it - it's that simple.
Secondly, you get to to use Verbier's one and only mountain-top ski shop for all your on-mountain needs, Ski Service Les Ruinettes. Be it a change in equipment, a quick service or overnight storage all these services are now available right where you need them and at no extra cost, saving you time and effort - no more lugging equipment around town.
You also have the option to collect your equipment up the mountain, when you book online just let us know in the comments and we will have all your skis and boots ready waiting for you at Ski Service Les Ruinettes.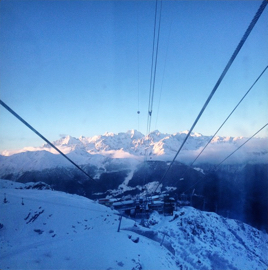 Photos: hassanrajwani, rascoddv - Verbier, Switzerland - December 2014
Thirdly, you can now avoid the queues by buying your lift passes with us. It is exactly the same price as buying them at lift station so why not collect your lift passes and skis at the same time and head straight for the slopes, we make them in the shop so no waiting around is required.
If you are coming up from Le Châble, in the valley, and/or you want to collect your skis at Ski Service Les Ruinettes we will have your lift passes waiting for you wherever you need them. 
We are also the only shop in town to offer clothing hire. So if you are not keen on splashing the cash and buying ski pants and a jacket, we have top quality The North Face clothing available for you to rent in all sizes for both men and woman.
This is a brand new service and we are working to make this available on our website but in the meantime if you are interested, just let us know your size and whether you are M/F in the 'comments' section and we will have a selection ready for you to try on when you arrive.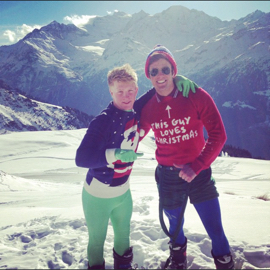 Photos: neesonpeng, jasonrhgd - Verbier, Switzerland - December 2014
Lastly, home delivery & collection is a service that Ski Service pioneered in Verbier over 15 years ago and is a service that we still provide on a regular basis. We will delivery to your chalet, hotel or apartment at any time of the day and will personally fit equipment there and then to ensure a perfect fit.
At the end of your trip we collect the equipment at a time that is convenient to you, however if it works best for you to leave your equipment at our mountain shop, Ski Service Les Ruinettes or in town at Ski Service Verbier that is completely fine.
Not sure exactly what your plans are yet? No problem, as you are booking directly from a shop in Verbier you retain complete flexibility and are able to add or remove gear and modify dates at will; be it before you arrive or whilst you are in Verbier - all at the same great online rate. This is not something that can be done when equipment is booked through 3rd party websites, where you are locked into your dates and have to pay should your plans change slightly.
Follow this link to save 20% on equipment hire for your next dream trip to Verbier with FESTIVE20.
Ski Service Verbier
p. +41 (0)27 771 6770
w. www.skiservice.com
e. skiservice@verbier.ch
a. Rue de Médran 16, Verbier, CH1936, Switzerland
s. Follow Ski Service Verbier on Facebook, Twitter, Instagram, Pinterest, YouTube, Vine, Vimeo and Google+
Get directions to Ski Service Verbier - located in the heart of Verbier at 1500 meters.
 
Ski Service Les Ruinettes
p.  +41 (0)27 771 67 70
e. lesruinettes@skiservice.com
w. www.skiservice.com/lesruinettes
a. Les Ruinettes, Verbier, CH1936, Switzerland
s. Follow Ski Service Les Ruinettes on Facebook and Instagram
Get directions to Ski Service Les Ruinettes - located at the top of the main lift at 2200 meters.
There is fresh snow on the way to Verbier and we hope you are too.
Happy Holidays and we look forward to seeing you.