Verbier Ski Offer - Save 20% on your next rental
Follow this link to save 20% on all equipment and clothing hire for your dream trip to Verbier
THIS OFFER HAS ENDED. PLEASE VISIT OUR DEALS PAGE FOR CURRENT OFFERS
Alternatively, go to www.skiservice.com and enter the code VERBIER20
Snow is on the way to Verbier and whether you are planning a trip for February or March we are here to offer you the best possible equipment rental package available anywhere online or in the village.
Keep it local!
Ski Service Verbier is a locally owned shop in the heart of town, located on the main road between from the Place Central and only 200 meters from the main lift station at Médran. This makes us the perfect place to pick up your skis in the morning and drop them off late afternoon before you head next door to the Fer à Cheval or to après-ski at Le Farinet. Our online booking system is our own. With no 3rd party companies involved, you cut straight to the chase with a guarantee of the best available rate.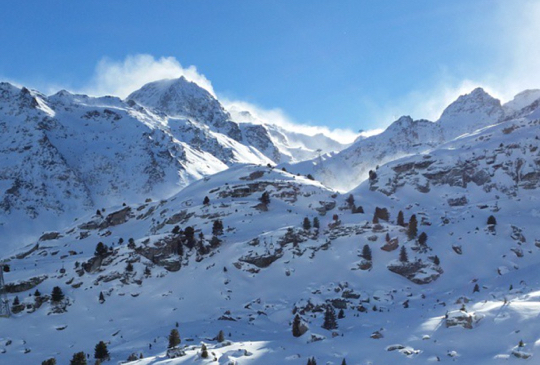 Fresh snow and great weather in Verbier, Switzerland - January 2015
As well as all the services you'd expect from a leading ski shop we also sell lift passes, rent ski clothing and we have Verbier's one and only mountain-top shop.
With our new and unique ski shop, Ski Service Les Ruinettes, located up the mountain at the top of the main lift, we have eliminated the need to carry, service or store equipment in town completely. You can now get onto and off the mountain hands free by using Ski service Les Ruinettes as your as a base. The only thing you need to remember when you leave your chalet or hotel is your lift pass!
Please continue reading to find out how you benefit in more ways than one by booking direct with us.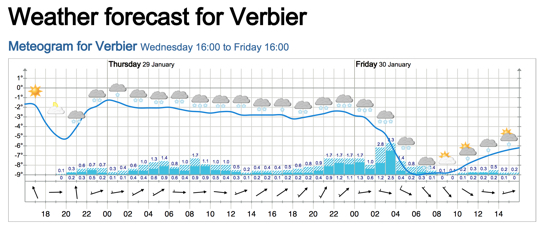 The temperature is set to stay low with steady snowfall over next two days. Cold+precipitation=powder!
 
Verbier's best equipment hire rate
Firstly, we guarantee this is the best rate available on gear rental in Verbier. By booking direct with Ski Service Verbier and cutting out the 3rd party websites and middle men, the process is streamlined and this allows us to keep our prices extra competitive. If, however, you do find a cheaper offer elsewhere, let us know and we will match it - it's that simple.
Ski Service Les Ruinettes - Verbier's one and only mountain-top shop
Secondly, you get to to use Verbier's one and only mountain-top ski shop for all your on-mountain needs, Ski Service Les Ruinettes. Be it a change in equipment, a quick service or overnight storage all these services are now available right where you need them and at no extra cost, saving you time and effort - no more lugging equipment around town.
You also have the option to collect your equipment up the mountain, when you book online just let us know in the comments and we will have all your skis and boots ready waiting for you at Ski Service Les Ruinettes. 

Photos:  - Verbier, Switzerland - January 2015
Thirdly, you can now avoid the queues by buying your Verbier lift passes with us. It is exactly the same price as buying them at lift station so why not collect your Verbier ski passes and skis at the same time and straight for the slopes, we make them in the shop so no waiting around is required.
If you are coming up from Le Châble, in the valley, and you want to collect your skis at Ski Service Les Ruinettes we will have your lift passes ready to pick up at La Ruinette in Le Châble with a complimentary coffee or beer for you to enjoy before you head up the mountain.

Map of the 4 Vallées showing the 3 overlapping areas of Bruson/Savoleyres, Verbier and the 4 Vallées. Buy your ski passes with Ski Service and avoid the long queues at the lift station. Our prices are exactly the same as the lift company, there is absolutely no up charge.
We are also the only shop in town to offer ski clothing hire. So if you are only here for a couple of days and don't fancy buying clothing or if you simply want to travel light we have top quality The North Face clothing available for you to rent in all sizes for both men and woman.
This is a brand new service and we are working to make this available on our website but in the meantime if you are interested, just let us know your size and whether you are M/F in the 'comments' section and we will have a selection ready for you to try on when you arrive.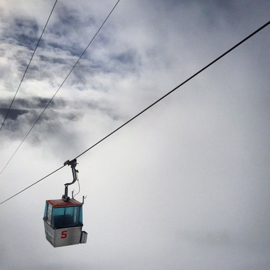 Photos: Ski Service Team rider Elizabeth Gerritzen finishes 2nd in the Verbier Freeride World Qualifier event - Verbier, Switzerland - January 2015
Home delivery and collection
Lastly, home delivery & collection is a service that Ski Service pioneered in Verbier over 15 years ago and is a service that we still provide on a regular basis. We will delivery to your chalet, hotel or apartment at any time of the day and will personally fit equipment there and then to ensure a perfect fit.
At the end of your trip we collect the equipment at a time that is convenient to you, however if it works best for you to leave your equipment at our mountain shop, Ski Service Les Ruinettes or in town at Ski Service Verbier that is completely fine.
No fixed plans?
Not sure exactly what your plans are yet? No problem, as you are booking directly from a shop in Verbier you retain complete flexibility and are able to add or remove gear and modify dates at will; be it before you arrive or whilst you are in Verbier - all at the same great online rate. This is not something that can be done when equipment is booked through 3rd party websites, where you are locked into your dates and have to pay should your plans change slightly.
Follow this link to save 20% on equipment hire for your next dream trip to Verbier with VERBIER20.
For Verbier accommodation deals make sure you contact our partners:
THIS OFFER HAS ENDED. PLEASE VISIT OUR DEALS PAGE FOR CURRENT OFFERS
Hotel Nevaï +41 27 775 40 00
Hotel Farinet +41 27 771 66 26
Hotel Mirabeau +41 27 771 63 35
and in Lourtier, Hotel La Vallée +41 27 778 11 75
Ski Service Verbier
p. +41 (0)27 771 6770
w. www.skiservice.com
e. skiservice@verbier.ch
a. Rue de Médran 16, Verbier, CH1936, Switzerland
s. Follow Ski Service Verbier on Facebook, Twitter, Instagram, Pinterest, YouTube, Vine, Vimeo and Google+
Get directions to Ski Service Verbier - located in the heart of Verbier at 1500 meters.
Ski Service Les Ruinettes
p. +41 (0)27 771 1178
e. lesruinettes@skiservice.com
w. www.skiservice.com/lesruinettes
a. Les Ruinettes, Verbier, CH1936, Switzerland
s. Follow Ski Service Les Ruinettes on Facebook and Instagram
Get directions to Ski Service Les Ruinettes - located at the top of the main lift at 2200 meters.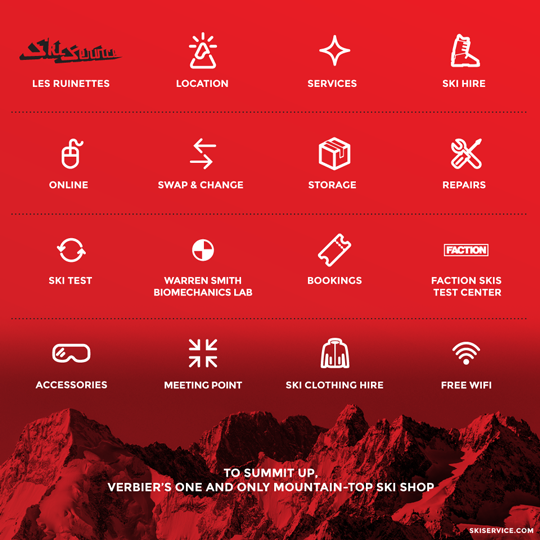 Our two ski rental shops are perfectly located close to the lifts, the slopes and the heart of town.
Click/tap the link below to automaticaly save 20% on equipment hire in Verbier or alternatively, go to www.skiservice.com and enter the code VERBIER20
FOLLOW THIS LINK TO SAVE 20% on all equipment hire for your winter trip to Verbier. 
 
THIS OFFER IS NOW CLOSED. PLEASE VISIT OUR VERBIER OFFERS FOR CURRENT DEALS.