Verbier Area Lift Pass
Verbier lift pass book online with Ski Service and save up to 20%:
You can now buy your Verbier lift pass and we will print it and have it waiting for your arrival. You can choose from two pick-up destinations, our main shop in Verbier or at the Una Lodge in le Châble.
About Verbier:
Verbier is largest single resort within the 4 Vallées. The 4 Vallées is the largest ski area in Switzerland. Verbier has some of the best lift accessible freeride terrain and pistes that the area has to offer including Mont Gélé, the (in)famous Tortin, Bruson, and Savoleyres.
The Verbier lift pass is ideal for those looking to spend a weekend or a few days skiing from Verbier town. It is also perfect for skiers who enjoy red and blue slopes; Verbier, Bruson and Savoleyres have a wonderful selection of intermediate slopes with great views and scenery to boot. The Verbier snow park is located in La Chaux. South facing, the park basks in the sun and perfect for honing your freestyle skills.
Here is a more detailed view of the Verbier ski area: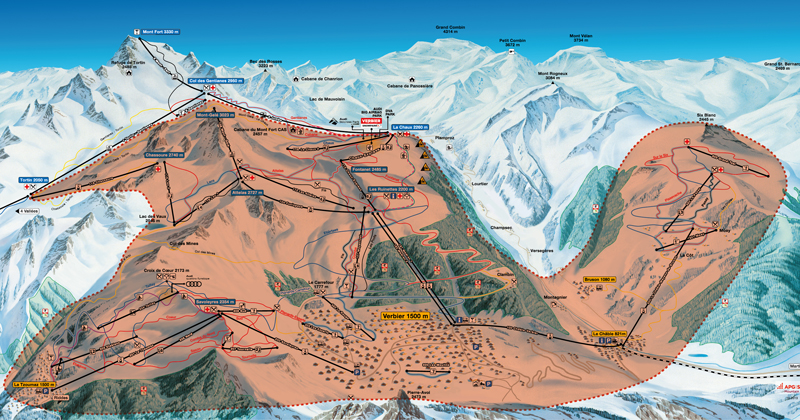 The Verbier Lift Pass:
With the Verbier lift pass you have access to all the lifts and pistes with in the zone marked red in the map above. A pass where there is something for everyone, from freeride and the itineraries, to the glorious pistes with stunning views.
If you are buying for 7 days or more, you automatically get a 4 Vallées pass.
The skiing area is split into 3 different passes, the Verbier Pass (marked in red on the map), the Bruson and Savoleyres Pass (marked in Yellow on the map), and the Verbier 4 Vallées Pass (marked in blue on the map).
You can now book your lift pass and skis with Ski Service online and save up to 20%. Click here to find out more about our ski hire.
For more information on ski passes and the deals on offer click here